CAITE Highlight

Career Fair Students Intrigued by Computer Science Demo
"Awesome!" and "How does that work?" were responses from high school students who turned a tiny, postage-stamp-sized batteryless computer in space and watched a 3-D video model of Saturn rotate and move in tandem. The hands-on activity showed students at the Hampden-Hampshire TechPrep Career Fair one example of what computer scientists can do--programmin.g computational RFIDs (radio-frequency identification), powered only by radio waves they collect, to send information about spatial orientation and acceleration to another computer.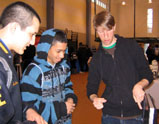 Dozens of students stopped by the CAITE table to talk to Ben Ransford, a graduate student in computer science at UMass Amherst who created the demo. Ben's message was basic: computer science is about solving problems--from engineering bridges to measuring climate change to creating medical devices. Students left with a new understanding of computer science, as well as brochures about computing and IT career and educational pathways. Several teachers and guidance counselors also made connections with CAITE and received posters for their schools. More than 400 students from area high schools attended the fair, held March 19 at Holyoke Community College, to learn about careers in business, engineering, health, information technology, and manufacturing technology.
For more information about the Hampden-Hampshire Consortium for Secondary/Postsecondary Career/Vocational Technical Education Linkages Initiative (TechPrep), visit their website.