CAITE Highlight

Undergraduates Become IT Reseachers for a Summer
This past summer the Department of Computer Science at the University of Massachusetts, Amherst offered a 10-week Summer Information Technology Research Experience for Undergraduates (SITe-REU) program. This program represented the first summer of three that are planned for the SITe-REU Program (a CAITE partner).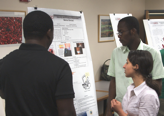 Student participants worked on a research team with other students and a faculty mentor to carry out a research project. Students conducted research in the following areas: Mobile and Sensor Networks, Bioinformatics, RFID Security, Robotics, Software Systems and Architecture and the application of computer techniques to Social Networks. Participants presented the final results of their work at an open poster session at the end of the program (see photo).
To qualify undergraduates had to have taken computer science courses and be entering their junior or senior year. Students with community college experience, either those in the process of transferring from a community college to a 4-year institution or those who were already at a 4-year institution but were previously enrolled at a community college were and are particularly encouraged to apply.
Applications were received from students at 31 distinct institutions of higher education with a fairly even split between public and private institutions. 5 applications were received from community college students.
This program will run again in Summer 2009 and represents a great opportunity for undergraduate computer science students to get a taste of research and find out what what life is like as a graduate student in Computer Science. For more information about the program go to http://reu.cs.umass.edu or contact Wendy Cooper, Academic Program Manager, (413) 545-2492.