CAITE Highlight
Girls building robots means future programmers and computer scientists!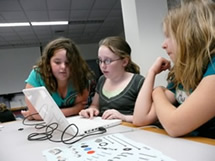 The Girls Connect event is the first step in a larger experience of programming and computer science exposure, sparking interest in computer science/IT education and related career options for young girls. The broader impacts include girls being more interested and confident in their computer science skills and education while potentially creating more diversity in the STEM field.Girls from across western Massachusetts expressed positive attitudes towards building robots while learning in an environment with other girls.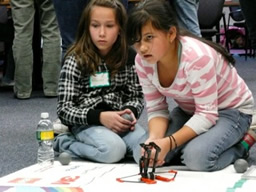 CAITE, as part of its mission is to broaden participation in computing, supports activities and creates opportunities for more women and girls in the field of computer science. The Girls Connect program brings together girls from across western Massachusetts for a day of team building and programming LEGO robots; this is a first opportunity to do programming and feel confident about their skills. The events gather approximately 35 middle-school girls who work in teams of five to build, program and compete with their LEGO robots. One goals is to recruit more girls to participate in the FIRST LEGO League competition—a longer-term experience that deepens interest in computing and science.
The results and feedback from the girls and their coaches indicate a positive impact from the days work. The comments from girls include, "I got to try programming for the first time," and "I learned kids can enjoy math and science." The coaches had similar feedback from the day with the following comments, "For our girls it is a once in lifetime opportunity." And "We value the importance of encouraging a stimulating environment that make girls lean toward a future in STEM careers."