CAITE Highlight
Hundreds of high schoolers explore IT careers at UMass Boston
BATEC and CAITE held the third annual ICT Careers Day at the University of Massachusetts Boston on Tuesday, November 25th in the Campus Center Ballroom. Over 350 students, teachers, staff, presenters and volunteers attended the event. Students attended from Cambridge Rindge and Latin, Greater Lawrence Technical, Lowell High School, Minuteman Regional, Old Colony High School, Somerville High School, TechBoston Academy and Woburn High School.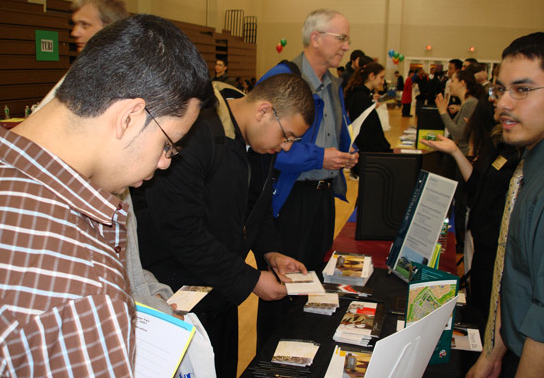 11 industry professionals joined the event to present 9 workshops, which ran twice to allow student an opportunity to attend two. Workshops included:
• Become a High-Paid Architect of a Networked Economy, Mike Puopolo and Biljana John, Bunker Hill Community College

• Biomedical Informatics, Aaron Abend, Recombinant Data Corporation

• Entrepreneurship, Lou Piazza, Suffolk Technology Partner

• Exploring Careers in Engineering, Eric Bass and Bob Harrison, IBM

• Games for Geeky Kids, Edwin Guarin, Microsoft

• GIS – What is Where?, David Tenenbaum, University of Massachusetts Boston

• Radio Frequency Identification (RFID), Jefferson Fernandes, nTAG

• Take a Byte and Learn about EMC and Information & Storage Management, Kim Yohannan, EMC Educational Services

• VDC Tour, Christine DePalma, University of Massachusetts Boston
After the workshops, Edwin Guarin of Microsoft presented a talk on the future of the next generation and IT. Guarin stated that as the future, the students had the power to make a impact on the lives of the world's less-fortunate and that technology would be the tool to help them do it. After lunch Guarin and BATEC Director Deborah Boisvert raffled off several prizes which included USB drives, XBox 360 games and several different Microsoft Office-related products. One lucky winner even went home with the grand prize - a Zune donated by Microsoft!
If you are interested in being a presenter for next year's ICT Careers Day, please email Dawn Zapata, BATEC Project Manager.