How will you mark CS Education Week?
To get ideas and to find out more, go to www.CSEdWeek.org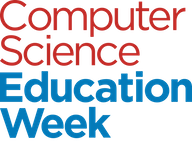 Check out the resource kit for event organizers and those who are recruiting interest.
For some great ideas about how to support CSEdWeek, see this list of tactics and materials.
Student, Teacher, & Advisor Resources: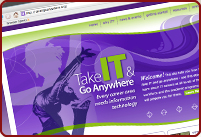 Visit ITforU.org, your portal for IT and CS education resources. You and your students can browse listings for all CS programs offered at public, higher-ed institutions across MA, and find internships, financial aid info, and a collection of inspiring profiles and information.

Massachusetts Celebrates
Computer Science Education Week
December 5-11, 2016
Computer Science Education (CS Ed) Week is December 5-11, 2016 and is a nationwide effort to raise awareness of the impact of computing and the importance of computer science education. Endorsed by Congress in recognition of Grace Hopper's birthday on December 9, 1906, CS Ed Week is a call to action to share information and offer activities that will elevate CS education for students at all levels. Thousands of students, teachers, parents, and members of industry will take part in CS Ed Week events this year, and we hope that you will, too.
Give Your Support for CSEdWeek
Getting involved in CS Ed Week is easy. Join teachers, students, parents, and industry in a pledge to support or participate in a CS Ed Week activity. Help Massachusetts gather even more local support for CS Ed Week this year by checking out tutorial guides, promotional material, and other resources here.
This year, CAITE and the MassTLC Education Foundation have partnered up to host a free Massachusetts CSEdWeek (#csedweekMA) Webinar on October 13 to help you prepare for the event. Need inspiration? This webinar will cover all you need to know about CS Ed Week, including how to host an Hour of Code, lesson plans for classrooms or home use, info on workshops to help you prepare, and other resources available - some only for MA educators! Register here if you wish to participate in one of the webinar sessions (4pm & 8pm EST) on Thursday, Oct. 13, or if you would like the link to the recording if you're unable to attend.
Stay tuned because CAITE and the MassTLC Ed Foundation are also putting together CS Ed Week kits for any Massachusetts educator organizing a CS Ed Week activity. Request a MA CSEdWeek kit by replying to this form by November 11 to ensure delivery by Dec. 7. Follow us on Facebook and Twitter for updates on the latest MA CSEdWeek news and events!
Organize CSEdWeek Activities
There are plenty of creative ways to celebrate CSEdWeek at your school, campus, or club.
CAITE-supported CSEdWeek activities have included a workshop on programming Super Cricket robots, a talk by the inventor of the "digital assistant" for middle and high schoolers, and a field trip to Microsoft's New England Research and Development Center in Cambridge. Draw inspiration from events from events taking place worldwide as listed on the CSEdWeek site.
Learn about different ways to participate and register your event here. Participating is easier than ever with fun, self-directed tutorials, as well as a CS Unpluged activity that doesn't require a computer (find other unplugged activities here). For more guidance on organizing your event, see the CSEdWeek Participation Kit and MassTLC Education Foundation's recommendations for Hour of Code lessons.