Student, Teacher, & Advisor Resources: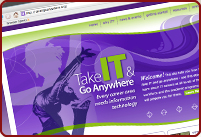 Visit ITforU.org, your portal for IT and CS education resources. You and your students can browse listings for all CS programs offered at public, higher-ed institutions across MA, and find internships, financial aid info, and a collection of inspiring profiles and information.

UMASS ENCOURAGES MASSACHUSETTS SCHOOLS TO PARTICIPATE IN COMPUTER SCIENCE EDUCATION WEEK DEC. 5-11, 2016
Dec. 13, 2016 -- The Commonwealth Alliance for Information Technology Education (CAITE), part of the University of Massachusetts Amherst's College of Information and Computer Sciences, and the MassTLC Education Foundation partnered up for Computer Science Education (CS Ed) Week Dec. 5-11.
In its sixth year, CS Ed Week was founded as a way to raise awareness about the need to elevate computer science education at all levels and to underscore the critical role of computing in all careers.
Through the combined effort of CAITE and MassTLC, more than 200 CS Ed Week kits were distributed to Massachusetts schools and organizations to help them prepare for, and promote, CS Ed Week.
"Those who registered with us online were sent buttons, posters and other communication tools," said Renee Fall, CAITE project manager. "We also held two webinars to engage those wishing to learn more about how to host successful CS Ed Week events."
CS Ed Week is endorsed by Congress to commemorate the birthday of Grace Hopper (Dec. 9, 1906 – Jan. 1, 1992), a United States Navy Rear Admiral and 1944 graduate of the Naval Reserve Midshipmen's School at Smith College in Northampton, Mass. Hopper was a computer science pioneer and invented the first compiler for a computer programming language, leading to the development of COBOL. She also was an advocate of training young people in computer science.
CS Ed Week is a call to action to share information and offer activities that engage all students in hands-on computing. This year, hundreds of thousands of students, teachers, parents, and members of industry will take part in more than 160,000 CS Ed Week events worldwide.
"Events include anything from participating in the national effort, Hour of Code, to designing a webpage, 'teaching' a computer to sing, and programming a robot – and even 'unplugged' activities that don't require a computer. They can be quite creative," Fall explained. "Some schools are devoting class time and some are offering after school activities."
CAITE has been promoting and supporting CS Ed Week since it began in 2010. Massachusetts has been among the states with highest participation in CS Ed Week for several years. According to the CS Ed Week website, there are currently 850 Hour of Code events scheduled in Massachusetts.
To stay up-to-date with #CSEdWeekMA news and events, follow CAITE on Facebook and Twitter. To learn more and get involved with CS Ed Week, visit masstlcef.org and www.csedweek.org.
CS ED WEEK IN OUR UMASS COMMUNITY
Rick Freedman
Fifth-year graduate student in the MS/Ph.D. program in Computer Sciences
University of Massachusetts Amherst
College of Information and Computer Sciences
Along with UMass volunteers: Ari Kobren, Ryan McKenna and Rohith Pesala
Where: Liberty Elementary School, Springfield, Mass.
When: Thursday, Dec. 8
What: Rick and a group of UMass volunteers will join technology teacher Melissa Zeitz's classes to participate in coding-related activities and talk about the world of computer science."This is the third year that I've been working with Melissa Zeitz during CS Ed Week. The first year, I went for the whole day by myself and we just did basic activities like Hour of Code," Rick Freedman shared. "Now Melissa has organized many guests over the entire week and increased the variety of activities for the children; so we've grown into a group of volunteers who visit and do some of those activities with the students. It's been a lot of fun interacting with the children, and Melissa is kind enough to offer us to return each year!"
Jim Kurose
Distinguished Professor
University of Massachusetts Amherst
College of Information and Computer Sciences
&
Assistant Director
Computer and Information Science and Engineering
National Science Foundation, Arlington, VA
Where: Amherst Regional Public Schools
When: Friday, Dec. 9
What: Hour of Code in two classes"It's critical that all students in our country have access to rigorous and engaging computer science education opportunities. CS Ed Week spotlights the amazing CS education activities going on nationwide and the increasing opportunities for access in local communities around the country." said Jim Kurose, UMass Distinguished Professor of Computer Science who is currently serving as Assistant Director of the National Science Foundation for Computer and Information Science and Engineering. "It's great to be able to visit and experience firsthand the exciting local classes and programs here in the Valley. It's a tremendous honor to spend time with students to see the impact of these efforts."